In metalworking processes, it is essential to have the right tools and equipment to ensure efficiency, productivity, and safety. One such tool that is widely used in the industry is the steel billet clamp. A steel billet clamp is a device that securely holds steel billets during various metalworking operations such as rolling, forging, and extrusion. In this article, we will discuss the advantages of using steel billet clamps in metalworking processes.
Increased Safety: Using steel billet clamps ensures safe handling of steel billets during metalworking processes. The clamps hold the billets firmly in place, preventing them from slipping, shifting or falling. This reduces the risk of accidents and injuries in the workplace.

Improved Efficiency: Steel billet clamps enable faster and more efficient metalworking processes. The clamps allow for quick and easy loading and unloading of billets, reducing downtime and increasing production output.

Reduced Labor Costs: By using steel billet clamps, labor costs can be significantly reduced. The clamps eliminate the need for manual lifting and handling of heavy steel billets, which can be time-consuming and physically demanding.

Customizable: Steel billet clamps are customizable to fit specific needs and requirements. They come in various sizes, shapes, and capacities to accommodate different types and sizes of steel billets.

Durability: Steel billet clamps are made of high-quality materials, such as alloy steel, that provide excellent durability and longevity. They can withstand extreme temperatures, pressure, and wear and tear, ensuring long-lasting performance.

Cost-effective: Steel billet clamps are cost-effective compared to other clamping systems. They are easy to install and maintain, and they require minimal repairs or replacements over time.
Choosing the Right Steel Billet Clamps
When choosing steel billet clamps for your metalworking processes, it is important to consider several factors such as the size and weight of billets, the type of metalworking operation, and the required clamping force. Additionally, it is essential to choose high-quality steel billet clamps from a reputable supplier that meets industry standards and regulations.
Maintenance Tips for Steel Billet Clamps
To ensure optimal performance and longevity of steel billet clamps, regular maintenance is necessary. Here are some tips for maintaining your steel billet clamps:
Regularly inspect the clamps for signs of wear and tear or damage.

Keep the clamps clean and free from debris, rust, or corrosion.

Lubricate moving parts regularly to prevent friction and reduce wear.

Store the clamps in a dry and clean environment to prevent moisture or contamination.

Follow the manufacturer's instructions for installation and use, and only use the clamps for their intended purpose.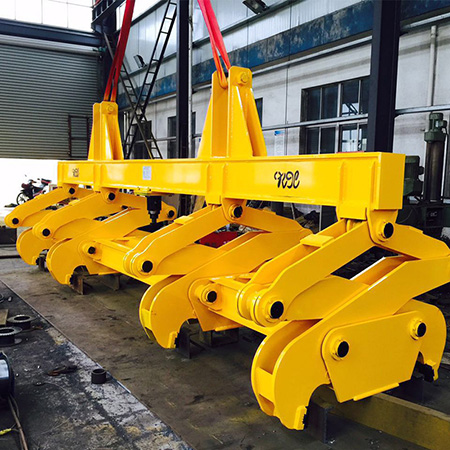 Precautions for using steel billet clamp:
Steel billet clamps are not allowed to stand under the clamp when lifting.

2When lifting, try to clamp the base part of the billet for lifting. If it deviates from the base, it will add or exceed the extra weight of the single-leg clamps and reduce the service life of the clamps.

If the clamp has small wear and tear, it should be repaired immediately. Otherwise, it will accelerate the damage of the spreader.

The lifting of billets in the exercise department is carried out at low altitude, and the running height can be controlled within the range of 2.0m or less.

The billet lifting road in the exercise department: after lifting from the rear cold bed, run to the south, avoid the cold bed and run to the west to the corresponding slow cooling pit.
Is the scope of use of different types of steel billet clamps the same?
By the scope of application of steel billet clamps, general-purpose steel billet clamps, special-purpose machine steel billet clamps, combined steel billet clamps, etc. are classified.
General-purpose steel billet clamps refer to the steel billet clamps whose structure has been standardized and have a large scope of application, for example, the three-jaw chuck and four-jaw chuck for lathe, the flat nose pliers and indexing head for milling machine, etc.
Special machine tool steel billet clamps are specially designed and manufactured for a certain process of a workpiece. special machine tool steel billet clamps are suitable for applications where the product is relatively stable and the output is large.
Combined steel billet clamps are assembled with a set of prefabricated standard components and assemblies of steel billet clamps. combined steel billet clamps have a flexible structure, short design and assembly cycle, steel billet clamps parts can be reused for a long time, suitable for use in a variety of single-piece Small batch production or new product prototyping and other applications.
Conclusion
Steel billet clamps are vital tools for ensuring safety, efficiency, and productivity in metalworking processes. Their customizable design, durability, and cost-effectiveness make them an excellent choice for many industrial applications. When selecting steel billet clamps, consider the specific needs and requirements of your operation, and choose high-quality clamps from a reputable supplier. By following proper maintenance procedures, you can ensure optimal performance and longevity of your steel billet clamps.
Related Products