One and two-leg wire rope sling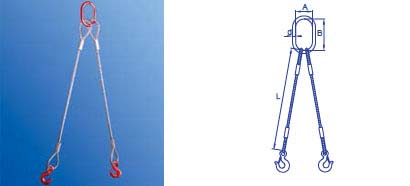 | | | | | | | | | | | | |
| --- | --- | --- | --- | --- | --- | --- | --- | --- | --- | --- | --- |
| Art.No. | Dia | (N.W.Kg,m) | Breaking | single WLL | Double | Art.No. | Dia | (N.W.Kg,m) | Breaking | single WLL | Double |
| | diameter | | load | KN | KN | | diameter | | load | KN | KN |
| | (mm) | | (kg) | 0° | 45°/90° | | (mm) | | (kg) | 0° | 45°/90° |
| ZS0204010 | 10 | 0.21 | 60 | 10 | 18/14 | ZS0204118 | 118 | 41.58 | 7800 | 1300 | 2410/1830 |
| ZS0204012 | 12 | 0.35 | 100 | 16 | 30/20 | ZS0204135 | 135 | 46.9 | 10200 | 1700 | 3100/2400 |
| ZS0204016 | 16 | 0.59 | 180 | 30 | 56/40 | ZS0204148 | 148 | 55.79 | 12000 | 2000 | 3700/2800 |
| ZS0204019 | 19 | 0.84 | 240 | 40 | 74/56 | ZS0204160 | 160 | 65.52 | 14400 | 2400 | 4400/3400 |
| ZS0204023 | 23 | 1.51 | 380 | 63 | 117/88 | ZS0204172 | 172 | 76.3 | 16800 | 2800 | 5200/4000 |
| ZS0204029 | 29 | 2.36 | 480 | 80 | 148/113 | ZS0204184 | 184 | 89.6 | 18000 | 3000 | 5500/4200 |
| ZS0204034 | 34 | 2.86 | 600 | 100 | 185/141 | ZS0204196 | 196 | 102.2 | 20400 | 3400 | 6300/4800 |
| ZS0204040 | 40 | 3.99 | 900 | 150 | 278/212 | ZS0204208 | 208 | 115.5 | 23800 | 3800 | 7000/5370 |
| ZS0204046 | 46 | 6.02 | 1200 | 200 | 370/282 | ZS0204220 | 220 | 129.5 | 25200 | 4200 | 7700/5940 |
| ZS0204054 | 54 | 7.63 | 1500 | 250 | 463/353 | ZS0204234 | 234 | 144.2 | 28200 | 4700 | 8700/6600 |
| ZS02060 | 60 | 9.45 | 2000 | 320 | 592/451 | ZS0204246 | 246 | 159.6 | 31200 | 5200 | 9600/7350 |
| ZS02067 | 67 | 11.41 | 2400 | 400 | 740/564 | ZS0204258 | 258 | 175.7 | 34200 | 5700 | 10500/8000 |
| ZS02075 | 75 | 13.58 | 3000 | 500 | 925/705 | ZS0204276 | 276 | 201.6 | 39600 | 6600 | 12200/9300 |
| ZS0204080 | 80 | 15.96 | 3600 | 600 | 1110/850 | ZS0204295 | 295 | 229.6 | 45000 | 7500 | 13800/10600 |
| ZS0204087 | 87 | 18.48 | 4200 | 700 | 1300/990 | ZS0204306 | 306 | 249.2 | 49200 | 8200 | 15200/11600 |
| ZS0204095 | 95 | 24.15 | 4800 | 800 | 1480/1130 | ZS0204324 | 324 | 280 | 55200 | 9200 | 17000/13000 |
| ZS0204100 | 100 | 27.3 | 5880 | 980 | 1810/1380 | ZS0204336 | 336 | 301.7 | 59400 | 9900 | 18000/14000 |
Pressed Flemish Eye Galvanized Wire Rope
| | | | | | |
| --- | --- | --- | --- | --- | --- |
| Diameter | Vertical | Choker | 90°Basket | Wire rope | Type |
| 1/4″ | 0.65T | 0.48T | 1.3T | 6×25 Bright EIPS IWRC | Single Leg Eye and Eye |
| 5/16″ | 1T | 0.74T | 2T | 6×25 Bright EIPS IWRC | Single Leg Eye and Eye |
| 3/8″ | 1.4T | 1.1T | 2.9T | 6×25 Bright EIPS IWRC | Single Leg Eye and Eye |
| 1/2″ | 2.5T | 1.9T | 5.1T | 6×25 Bright EIPS IWRC | Single Leg Eye and Eye |
| 5/8″ | 3.9T | 2.9T | 7.8T | 6×25 Bright EIPS IWRC | Single Leg Eye and Eye |
| 3/4″ | 5.6T | 4.1T | 11T | 6×25 Bright EIPS IWRC | Single Leg Eye and Eye |
| 7/8″ | 7.6T | 5.6T | 15T | 6×25 Bright EIPS IWRC | Single Leg Eye and Eye |
| 1″ | 9.8T | 7.2T | 20T | 6×25 Bright EIPS IWRC | Single Leg Eye and Eye |
| 1-1/8″ | 12T | 9.1T | 24T | 6×36 Bright EIPS IWRC | Single Leg Eye and Eye |
| 1-1/4″ | 15T | 11T | 30T | 6×36 Bright EIPS IWRC | Single Leg Eye and Eye |
| 1-3/8″ | 18T | 13T | 36T | 6×36 Bright EIPS IWRC | Single Leg Eye and Eye |
| 1-1/2″ | 21T | 16T | 42T | 6×36 Bright EIPS IWRC | Single Leg Eye and Eye |
With different ton when in 30° 45° 60°
Application
Suitable for transformer, shipbuilding and special machinery and a variety of environment in large lifting special requirements. The minimum breaking force of wire rope without joint is 6 times of the working load.
Note
In ordering a wire rope sling be sure to give complete information including length, diameter, construction, lay, core.
Length: state the exact length desired. In ordering end fittings such as thimbles, links or hooks spliced in, give exact length from bearing to bearing or end rope, or submit a sketch with dimensions.
Diameter: the true diameter of a wire rope is the diameter of a circle which will enclose it. In using the caliper to determine the diameter, be careful to avoid measuring across the adjacent strands.
Construction: advice whether 6X19, 6X37, 7X19 or other.
Lay: state definitely whether regular(right hand or left hand). or lang lay(right hand or left hand)is required; if it is uncertain, consult with us. Standard practice is to furnish Right Hand Regular(ordinary)Lay. But if left hand Regular(ordinary)Lay is required for cable tool drilling or some other purpose, be sure to state.
Core: indicate whether fiber core (FC) or independent wire rope core is desired.
A steel wire rope sling is a durable and versatile lifting tool that is made of high-strength steel wire and designed to handle heavy loads. It is typically composed of a loop of wire rope with a locking mechanism at one end for attachment to a crane hook or other lifting device. Steel wire rope slings come in a variety of sizes and configurations to accommodate different load capacities and lifting applications. They are used in industries such as construction, mining, manufacturing, and transportation for lifting and moving heavy equipment and materials. With proper use and maintenance, a steel wire rope sling can provide reliable and long-lasting performance in lifting applications.
Steel wire rope slings are preferred for heavy-duty lifting applications due to their high strength, flexibility, and durability. They can be used in a variety of lifting configurations such as basket, choker, or vertical hitches, and can be fitted with a variety of end fittings such as hooks, shackles, or thimbles.
One advantage of steel wire rope slings is their ability to resist abrasion and wear, making them ideal for use in harsh environments where other types of lifting slings may not be suitable. They also offer excellent resistance to heat and UV radiation, which can further increase their lifespan.
Steel wire rope slings are manufactured to meet stringent safety standards and are subject to regular inspection and testing to ensure their reliability and safety. It is essential to follow proper lifting practices and to perform regular inspections to ensure that the wire rope sling is in good condition and free from damage that could compromise its strength or integrity.
Overall, a steel wire rope sling is an essential tool for heavy-duty lifting applications where reliability, durability, and safety are critical. With proper use and maintenance, a steel wire rope sling can provide years of reliable service and help ensure safe lifting operations in various industries.